Gino Marchetti's, Baltimore Colts Coach, Don Shula passes at 90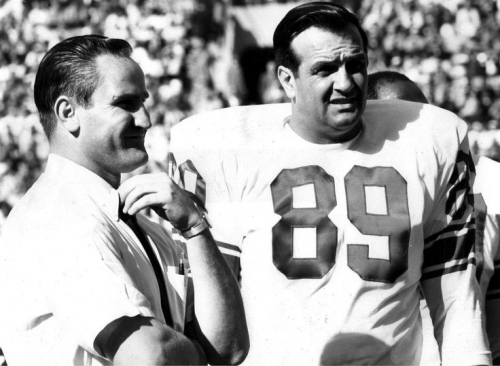 Between 1963 and 1965 the two Hall of Famers paths crossed for 32 games with the Colts
Gino Marchetti's Baltimore Colts Coach, Don Shula passed away today at 90.
In his second year as an NFL head coach, Don Shula, 34, had a stable of future Hall of Famers to lead as the 12-1 Colts faced off in the 1964 NFL Championship game against the Cleveland Browns 11-3-1.
Defensively, Shula had one of greatest defensive ends to play the game, Antioch High's, 11 time Pro- Bowler and Future Hall of Famer (1972) Gino Marchetti. Marchetti in his 13th and next to final season in the league was 37. Although Shula and Marchetti lost to the Browns, and their careers were going in different directions, they would develop a friendship that would last more than 50 years.
Gino Marchetti passed away April 29, 2019 at 93.
Rest in Peace Coach Don Shula