Deer Valley High School Boys Volleyball Team's Amazing 2015 Season
By Steve Dulas, Legends staff writer
Though the season ended one victory short of the ultimate goal, and two matches away from perfection, the 2015 boys volleyball season at Deer Valley High School produced results against which other teams shall now be measured.
The Wolverines won a third straight North Coast Section Division I championship, after going undefeated for the ninth straight year in the Bay Valley Athletic League. For the second time in three years, they reached the CIF Northern California Regional championship match.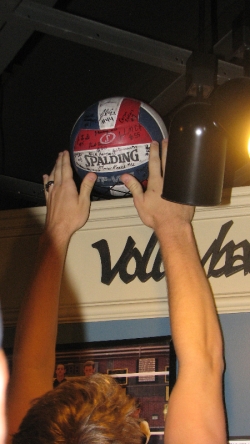 "We've had our ups and downs, but we've had a blast overall," said Jordan Ewert, a senior outside hitter headed to Stanford on a volleyball scholarship. "I'm not going to lie, we wanted to go undefeated this year."
Their one loss in the regular season was to Jesuit-Sacramento in the semifinal round of their own tournament. The season ended with a three-set loss to Northern California power St. Francis-Mountain View, a year after falling to St. Francis in the Northern California semifinal round.
"It's a dream," coach Lou Panzella said. "You can't ask for more; getting to the finals for a second time. No matter what happens tonight this has been an incredible season."
Much of the focus is on Ewert. But it's not just his size that makes the 6-foot-5 outside hitter stand out from the crowd. He has become one of the best volleyball players ever in the East County. He's knocked down nearly 1,100 kills in the last two seasons. He was East Bay Player of the Year as a junior, has accepted an athletic scholarship to Stanford, and is a starter on the U.S. Junior Olympic team.
"Obviously Jordan leads us in most categories, but one of the great things about volleyball is it really is a team effort," Panzella said. "It's not like basketball where one guy, like Michael Jordan, can dominate. You need to guys out there that are digging, passing, blocking, setting, doing the whole thing."
Ewert is one of seven seniors on the roster, and all have been vital to this team's success, Panzella said. Jared Stark, who convinced lifelong friend Ewert to give volleyball a try in middle school, was a ferocious hitter during the playoffs, with 68 kills in the last two NCS matches. Kwan Carter, a middle hitter and setter, repeatedly came through with crucial plays and timely serves in the NCS semifinal round. Jacob Evans kept Ewert, Stark and Carter in line to score, giving them chances for good hits with his sets. Middle hitter Jacob Brannan earned a spot in the regular rotation by the start of the BVAL season and had 217 kills and 53 blocks. Brian Cardera and Jordan Guardamagni provided key help off the bench throughout the season.
"This team had to work hard because they had a target on their back," Panzella said. "Having won NCS two years in a row and losing two starters off that team, having the nucleus of that team back, our expectation was to go out and just be the best we can be every night. If we did that, everything else would just take care of itself."
The Wolverines started the year by going 9-0 in the San Luis Obispo Invitational, including a straight-set victory over Valencia, which went on to reach the CIF Southern California Division I playoffs. Deer Valley also won the San Ramon Valley and Dougherty Valley tournaments. It then rolled through the BVAL season, with all 10 matches 3-0 victories. The Wolverines earned a first-round bye in the NCS playoffs as the No. 1 seed, then dispatched local rival Heritage in three games, defeated California 3-1 in the semifinal, then defeated De La Salle 3-1 in the title match.
They kept going with a 3-0 victory over No. 6 Roseville in the first round of the NorCal playoffs, then beat Monta Vista-Cupertino 3-1 to advance to the final against St. Francis.
A few hours before the championship match, the Wolverines and Panzella were given a tour of the Antioch Sports Legends Hall of Fame. Some of the Wolverines were already there – a team photo from 2014 is on the Volleyball wall. Before leaving for their pregame ritual of Subway sandwiches, the players autographed a red, white and blue volleyball which Ewert perched on a shelf atop the volleyball wall.
What surprised the players were seeing some familiar faces in the Hall, Deer Valley teachers Andria Edwards and Sue Cottier. Edwards was enshrined as a coach in 2013, and Cottier, enshrined in 2008 as a basketball player.
Panzella also pointed out the display of Antioch graduate and former major leaguer Aaron Miles, since his mother, Fran, was Panzella's classroom assistant at Deer Valley. Panzella also directed them to a couple of displays of Deer Valley volleyball alums — Kentucky basketball player Marcus Lee, who helped lead Deer Valley to the 2013 NCS title as a middle blocker, and Jason Agopian, the 2011 East Bay Player of the Year who had 215 kills and 124 service points in the 2015 season for UC Irvine.