1962 AHS Basketball team reunites
Three Sports Legends HALL of FAME Inductees come together to honor their coach.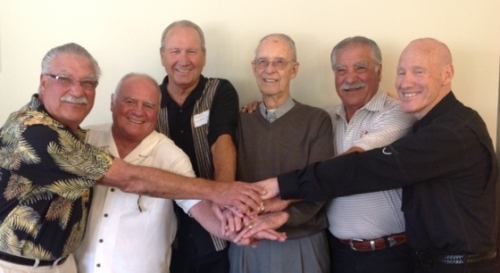 This is a photo of the starting five of the Antioch High School 1962 basketball team celebrating their Coach, Thayer Johnson's 85th birthday.  Left to right are: Jerome Circo, Ron Morelli, Butch Rounsaville, Thayer Johnson, Gerald Circo and Bogie Edwards.  This is the first time that all of the players and coach have been together at the same time in 52 years.  The event was held at the Rossmoor golf course club house on May 31st.   On February 2, 1962, this team snapped a 34-game (17- year) losing streak to Pittsburg with a 56-52 win.  It was the first time that an AHS basketball team had ever beaten Pittsburg on their home court.  Prior to this game, the last Antioch win over Pittsburg occurred on January 19, 1945.  The team finished with a 15-8 record and placed second in the DVAL.  Rounsaville was unanimous choice All-DVAL and was the league scoring champion.  Jerome Circo and Bogie Edwards were voted Honorable Mention All-League.  Morelli, Edwards and Rounsaville have all been inducted into the ASL Hall of Fame.  The Circo Brothers were inducted into the Chico State University Hall of Fame.