Antioch High School Baseball Program Granted $5,000 for baseball field improvments and equipment by Wells Fargo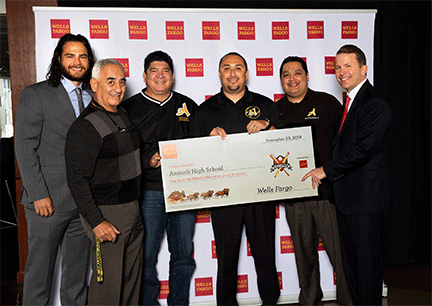 Antioch High School was awarded $5,000 to improve the baseball fields and purchase equipment for the Antioch High Baseball Program. On Thursday, San Francisco Giants shortstop Brandon Crawford presented checks at AT&T Parks. The $100k in grants, was part of the KNBR Step Up to the Plate for Education grants which was funded by Wells Fargo. Through an open community nomination process, schools applied to receive $100,000 in grants, which will be awarded to 28 Bay Area schools to support athletics, arts, S.T.E.M. and community-based programs. World Champion Brandon Crawford congratulated the winners and took photographs with school representatives, including kids.
Left to Right, San Francisco Giants Brandon Crawford, AHS Athletic Director Steve Sanchez (ASL-HOF 2007), AHS Principal Louie Rocha (ASL-HOF 2015, 77 Football Team), AHS Head Baseball Coach Carlos Gonzalez, Assistant Coach Joe Hernandez and Wells Fargo Repasentative.
Article credit to East County Today