Gene "Butch" Rounsaville Celebrates 51st Anniversary in MLB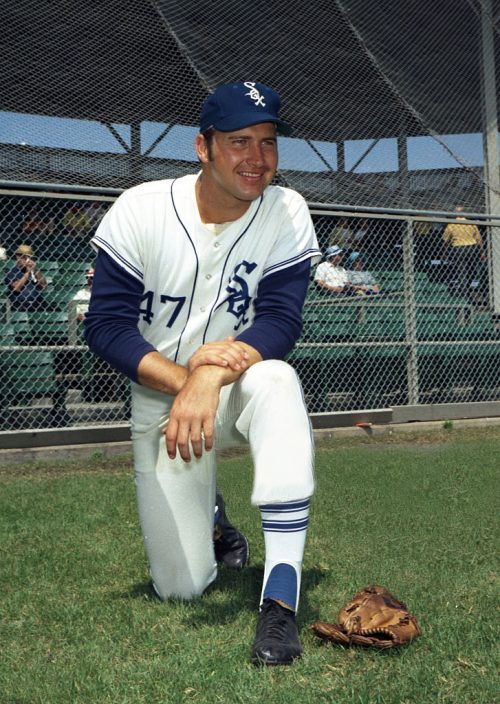 Today Antioch Sports History- April 7, 1970- 51 years ago today Antioch High's Gene "Butch" Rounsaville toes the rubber at Chicago's White Sox Stadium as a relief pitcher and becomes Antioch's first Major League Baseball (MLB) player.
It would be eight long years before the 6'3' 205 pound, 1962 graduate would stand facing his first batter in the season opener against the Minnesota Twins. As with any professional athlete's journey, Butch's heart and body would be challenged. As a high school athlete, Gene Rounsaville, called "Butch" by friends, sports came easy. He excelled in basketball, scoring 200 points his senior year, played football and was a star pitcher in baseball. Besides being named as Antioch High School's 1962 Athlete of the year, he was a unanimous selection for First Team All-Diablo Valley Athletic League and picked for the All-Northern California Team both in basketball. After accepting a basketball scholarship from Fresno State, Butch enrolled for a year but he missed baseball and football too much so he transferred to Diablo Valley College (DVC). It was the right move as he was All-Golden Gate Conference at quarterback, and had a 1.84 ERA in baseball and in 1964 he was awarded DVC's Athlete of the Year.
In 1965, at twenty years old, Butch's sports career would take a significant turn when he was drafted and signed by Major League Baseball's Philadelphia Phillies. In his first two years of "A" ball, Butch pitched on three different teams, throwing 524 innings and had a 3.83 ERA before being moved up in 1967 to AA for the Reading, Pennsylvania Phillies. It would be here 1968 that Butch's sharpened pitching skills became evident and his legacy would be made. Leading the Eastern League with the most wins, (14) most shut outs, (6) and most complete games, (14) and a stunning 1.76 ERA, he was ready for Major League Baseball.
After playing AAA at Eugene, Oregon in 1969, Butch remembers pitching in the Dominican Republic Winter League and leading the league with seven wins, but his shoulder was beginning to bother him so he began cortisone shots. By December 1st at the annual Rule 5 draft, where teams can draft good prospects from other teams, Gene "Butch" Rounsaville was drafted by the Chicago White Sox. After spring training he made the team but his arm wasn't recovering. After Butch's first relief start on April 7, 1970 at 25 years old, he pitched 6.1 innings in 8 games, but it was too late, his shoulder was too damaged to fulfill the potential he proved he had just two years earlier at Reading, Pennsylvania. Returning to Antioch in 1970, Butch began coaching Antioch's American Legion Baseball Team and helped develop young pitchers and future MLB players like Jeff Pico and Alex Sanchez. In 2006 Butch was inducted into the Reading, Pennsylvania Phillies "AA" Hall of Fame. After 65 of years of Reading "AA" baseball records, Butch's 1.76 ERA and 6 shutouts still stands at the top of the leader board. Butch is an inaugural member of the Antioch Sports Legends 2007 Class as is his brother, and three sport athlete, Rally Rounsaville. Butch and Rally, are also members of DVC's Hall of Fame.
Congratulations Butch on your 51st Anniversary, you've made us all proud all over again.